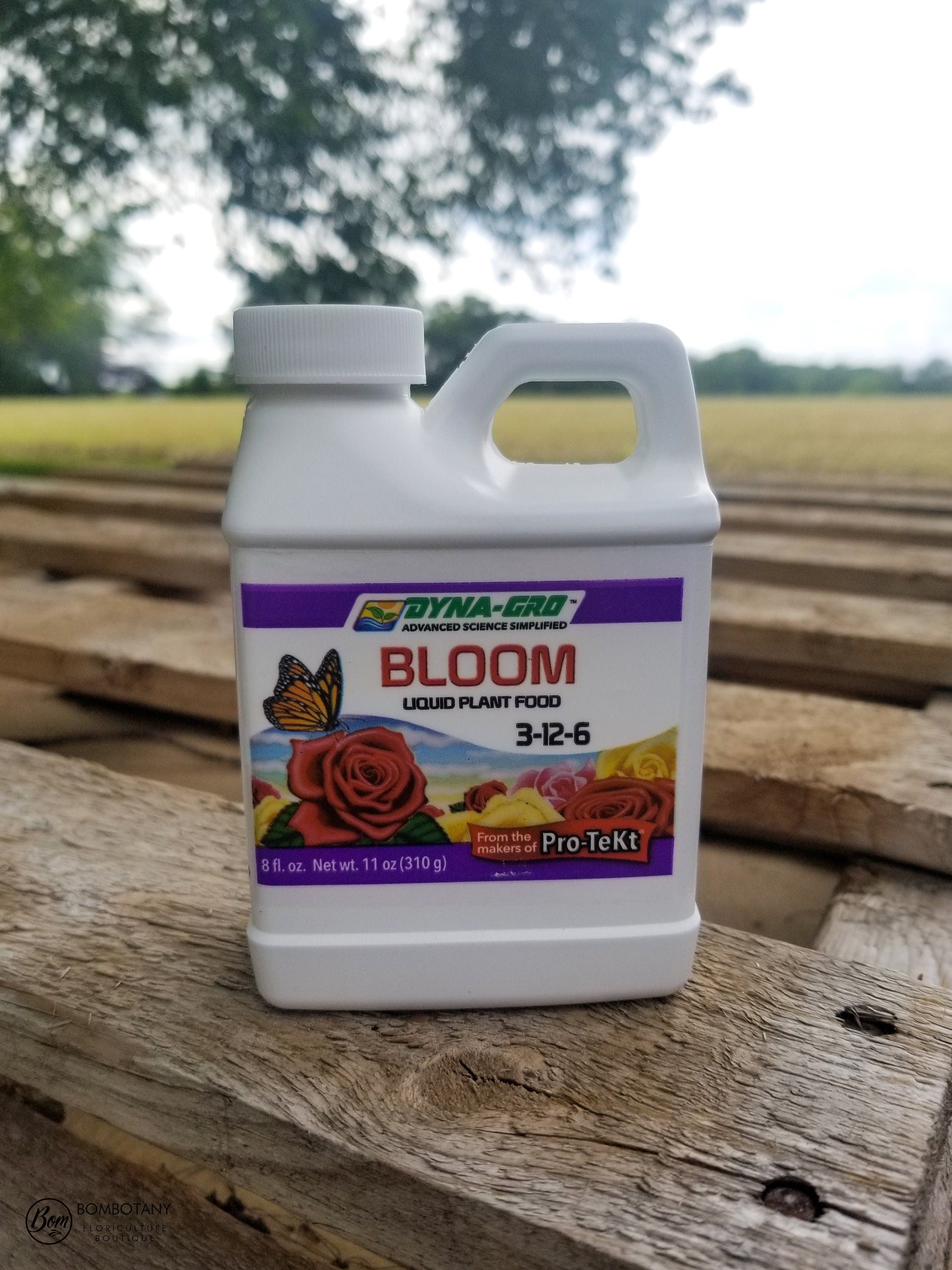 8 oz Houseplant Fertilizer - Dyna-Gro BLOOM 3-12-6
Reach $35 order total to qualify for free shipping! Use code "FREESHIP" at checkout. For non-plants, we use calculated postage rates with a free shipping threshold to keep prices competitive for those also purchasing plants (which always ship free).

BLOOM 3-12-6 is a low nitrogen, high phosphorus plant nutrient formula containing all 6 essential macronutrients and all 10 essential micronutrients.

Dyna Gro Bloom is recommended for all blooming and flowering plants.

✿ Supplies a balance of high nitrate to ammoniacal nitrogen ratio needed to avoid stem elongation in flowering plants and vegetables.
✿ Specifically formulated to encourage the development of large fruit and vegetables, while providing complete plant nutrition.
✿ Ideal for tomatoes, all fruits, all vegetables, herbs and flowering plants.
✿ Apply BLOOM before flower buds appear to help initiate and sustain flowering.
✿ When applied, the nutrients in BLOOM are immediately available, giving your plants the ability to access the nutrients they need in critical times.

Bombotany exclusively uses Dyna-Gro's line of fertilizer products in our greenhouse. Depending on usage, these 8 Oz bottles of fertilizer are enough to mix over 100 gallons of solution for plant maintenance applications.
Plants ship FREE

Untethered, finally traveling the world, FREE like a bird.. except not a bird. Definitely a plant.

Arrival in 2-10 business days.

Tracked and insured. Weatherized whenever necessary. Heat packs are always free and automatically included.

Non-plants ship free at $35 in cart with code "FREESHIP".
FAQ's

Maybe we can read your mind? Maybe the plants are getting to us.

Check out our FAQ page for quick answers relating to our processes and policies.

If it turns out we're not clairvoyant, or you have questions about this product specifically, just call our name, and we'll be there (♫ we'll be there ♫).
Ask a question