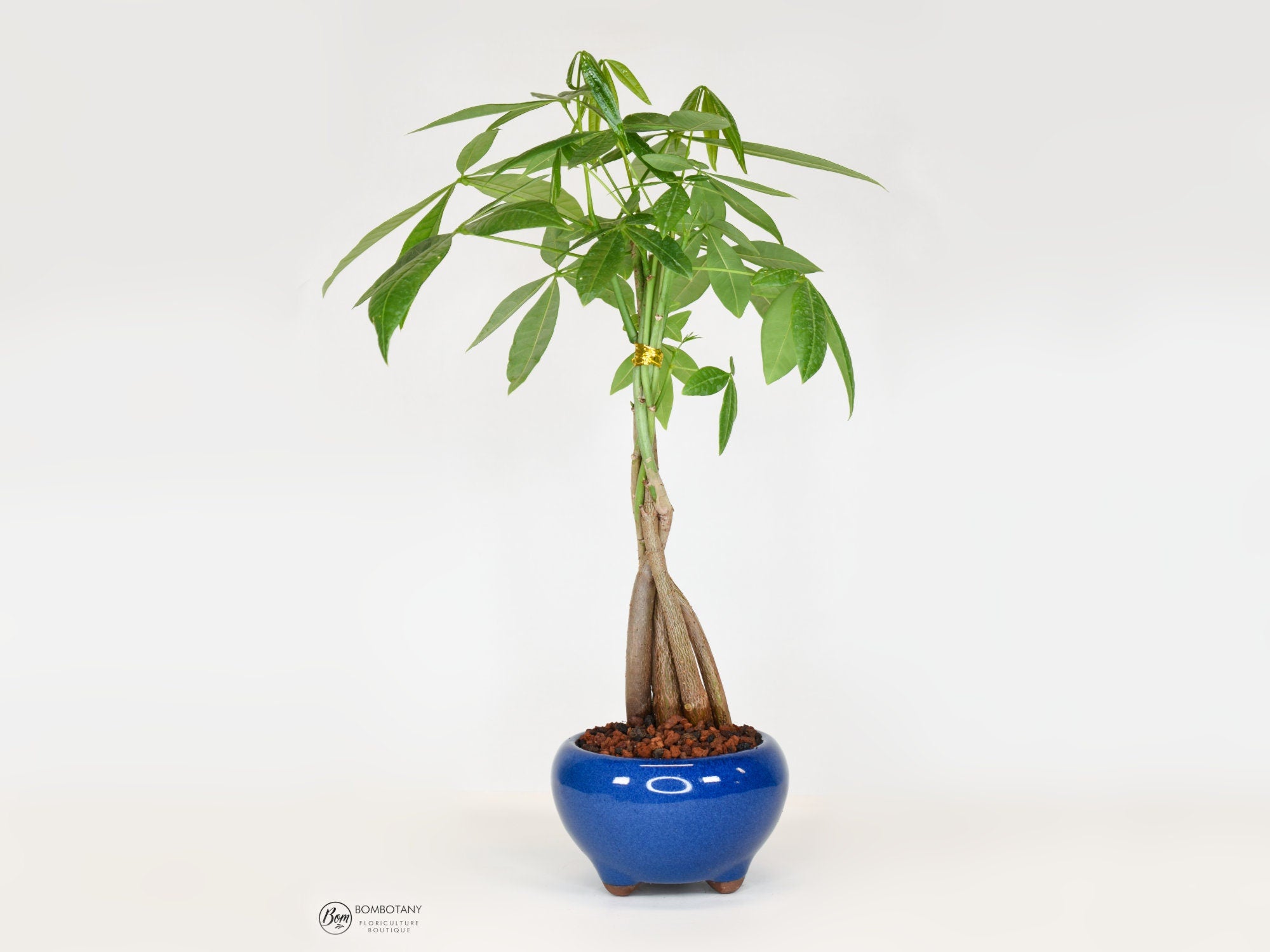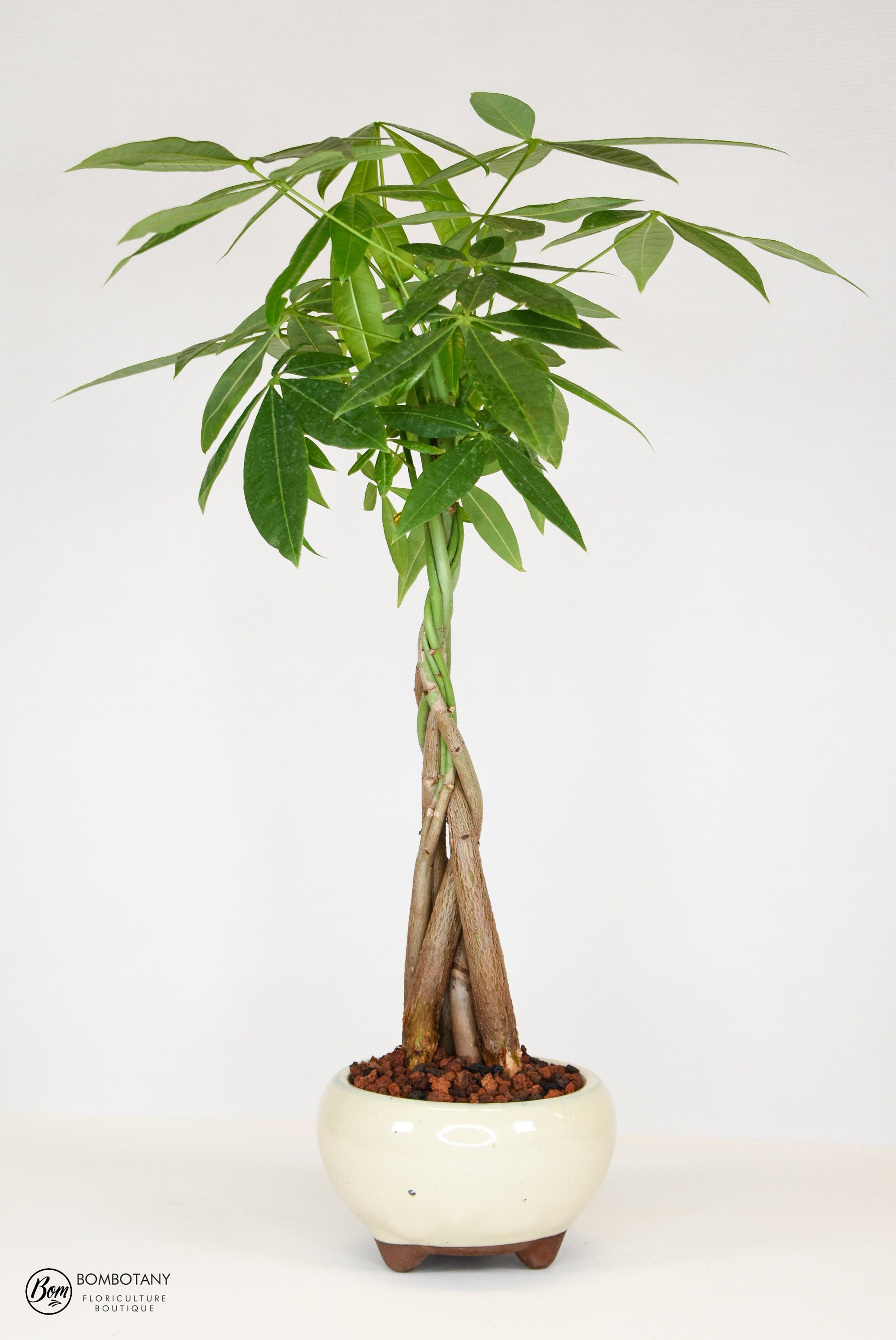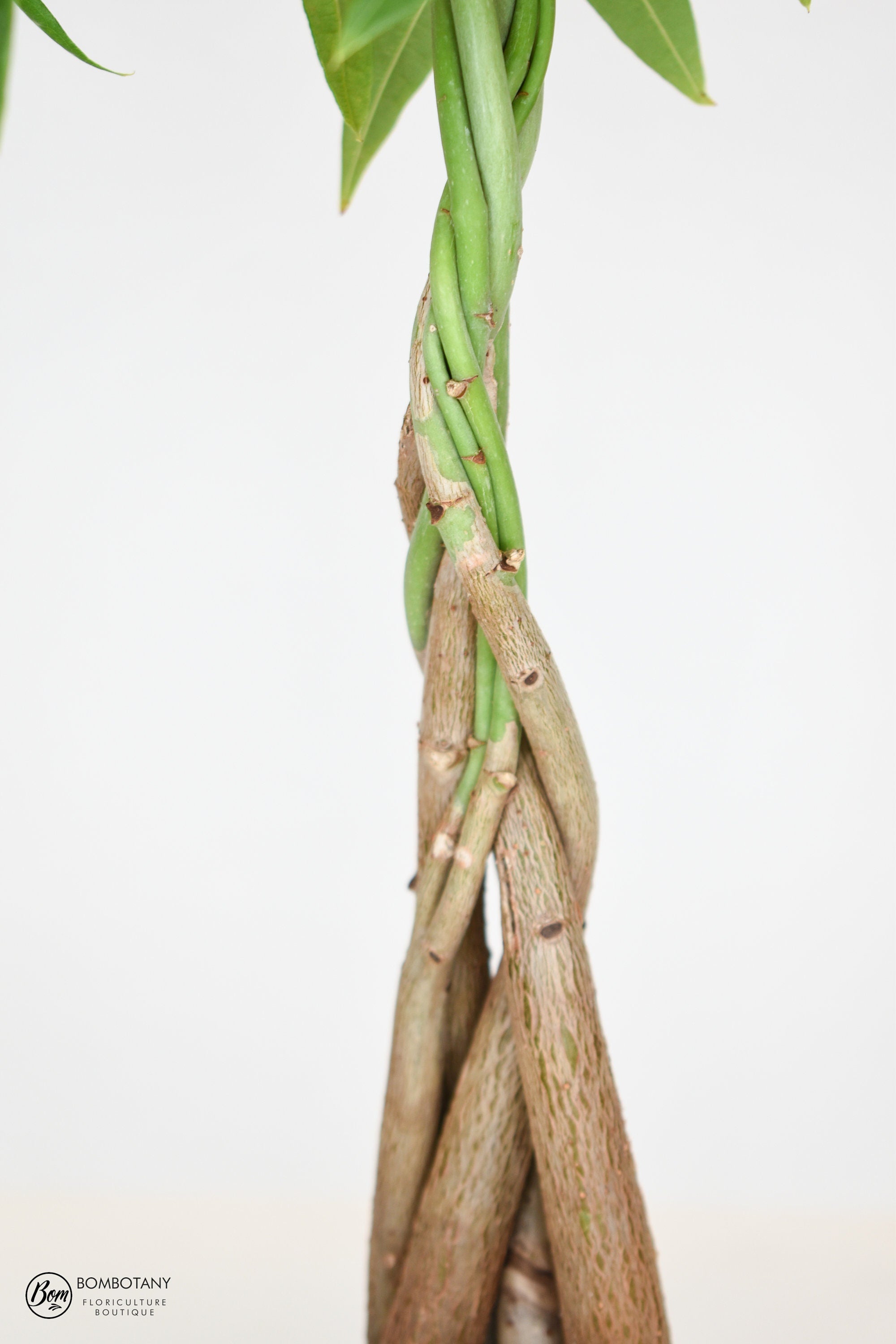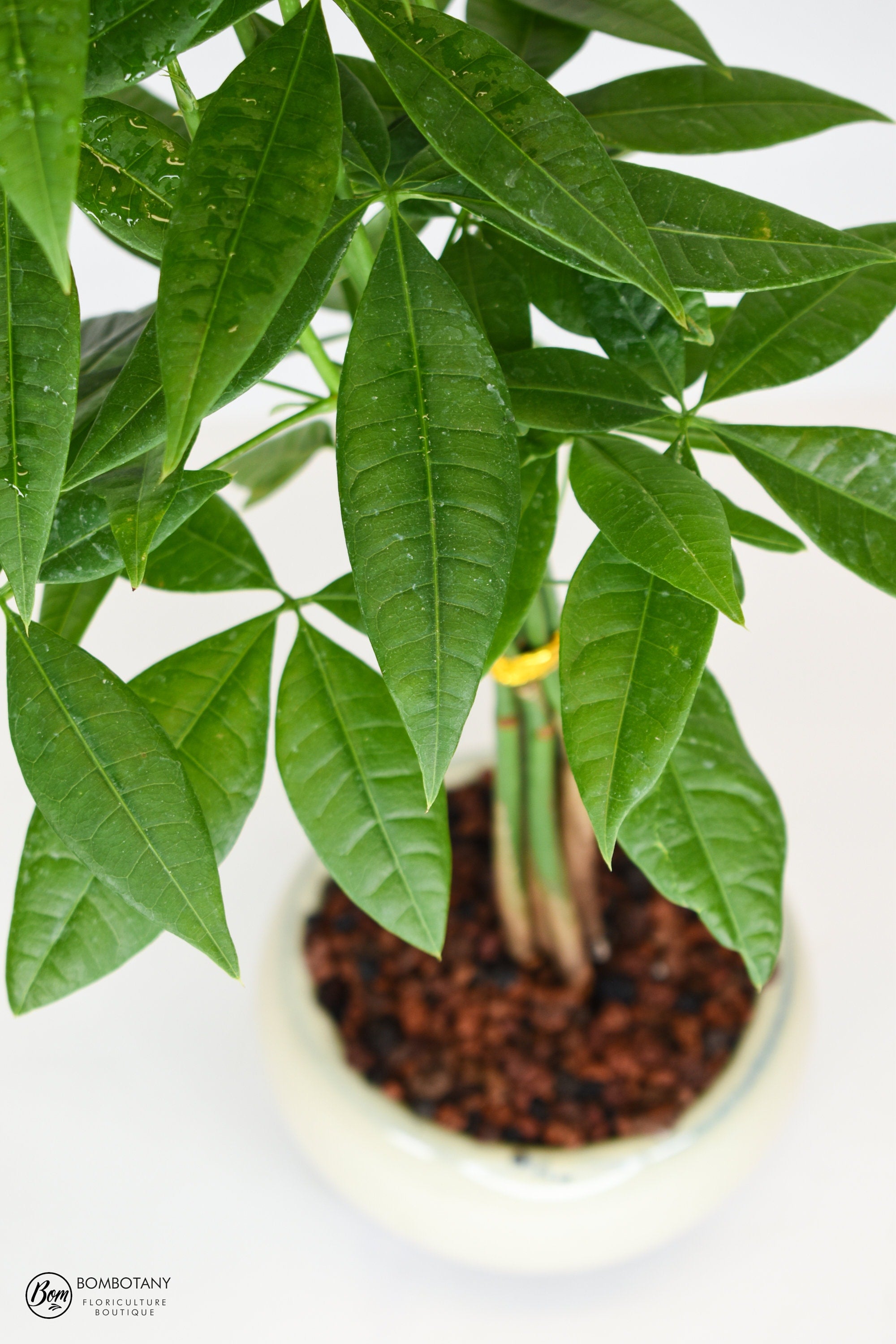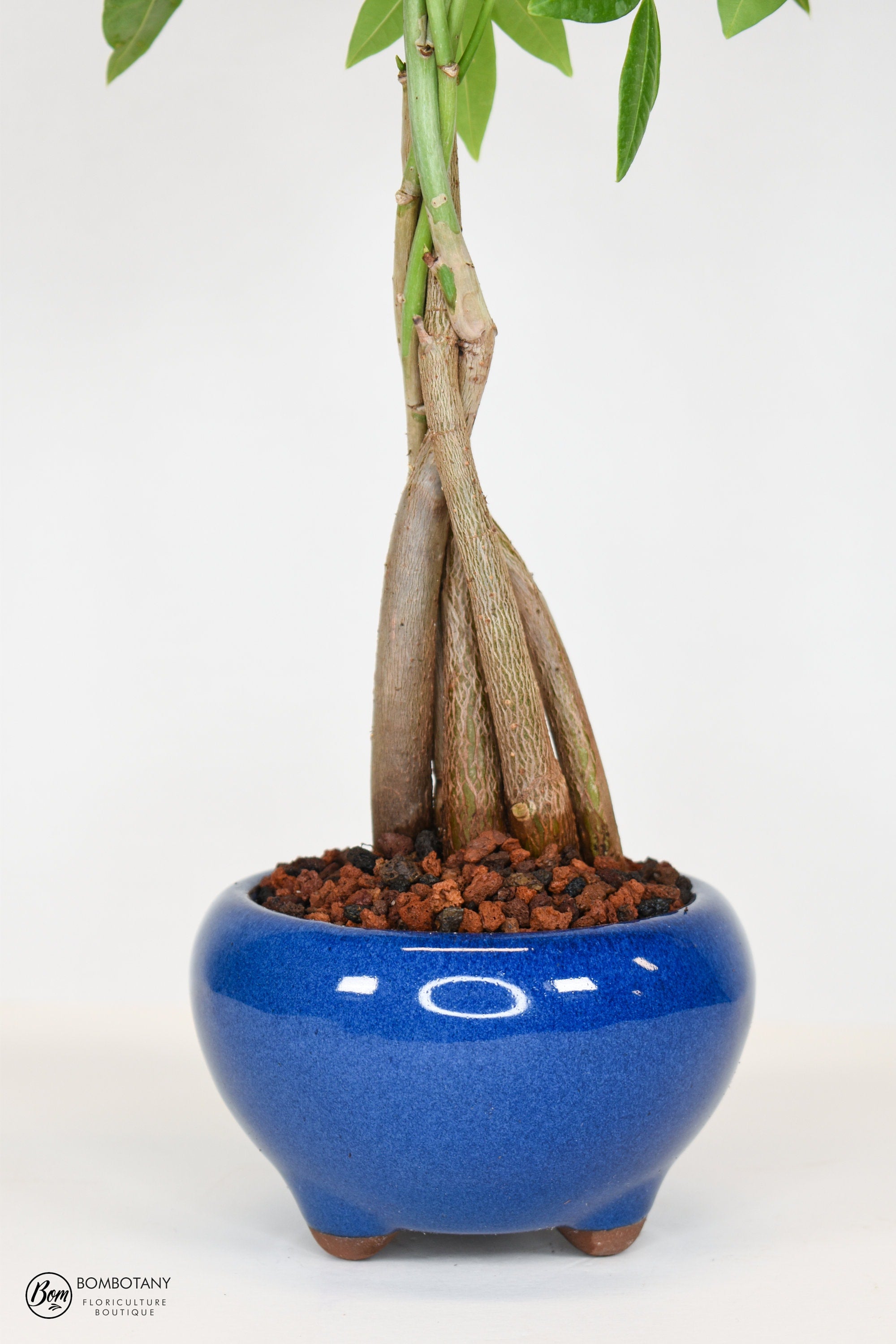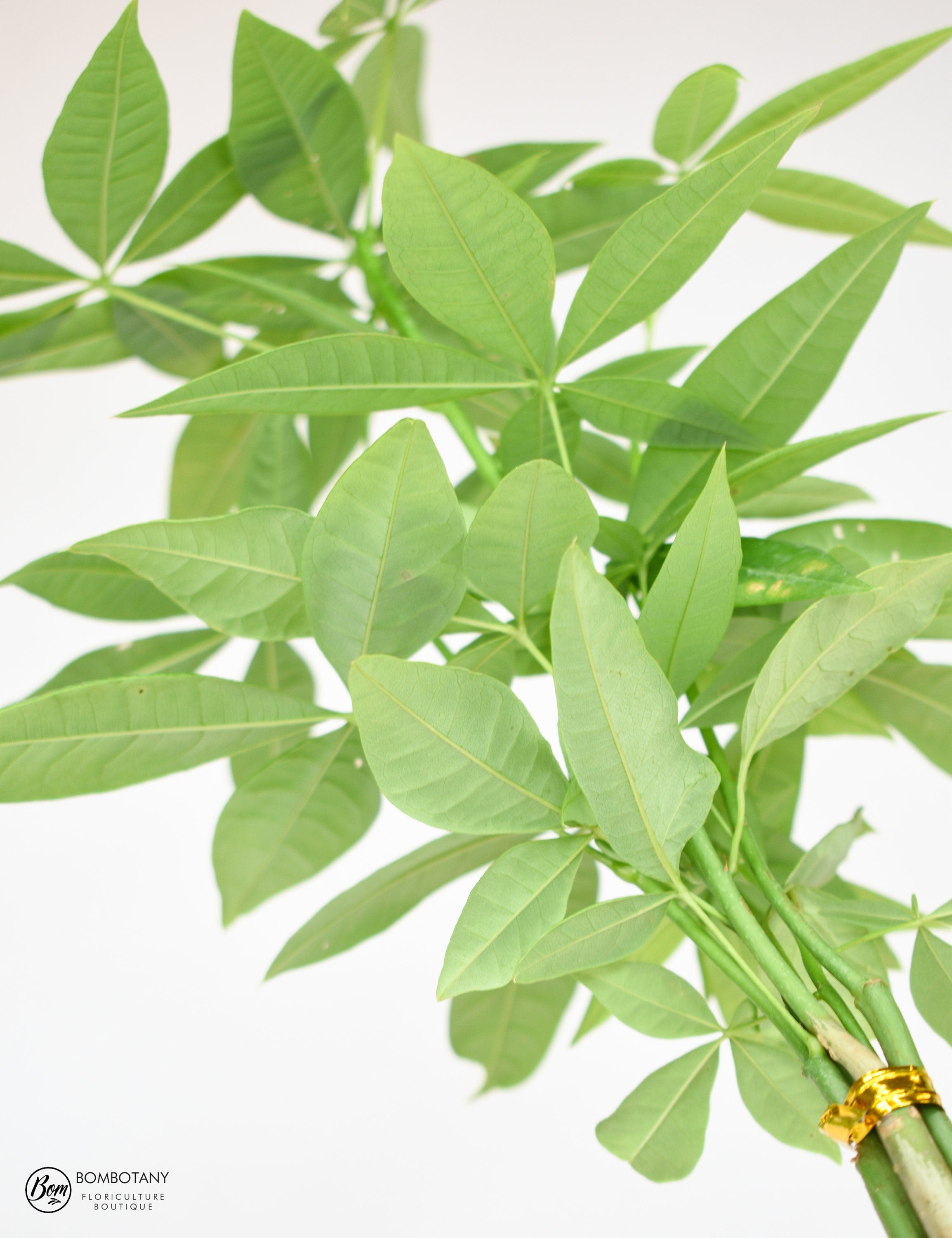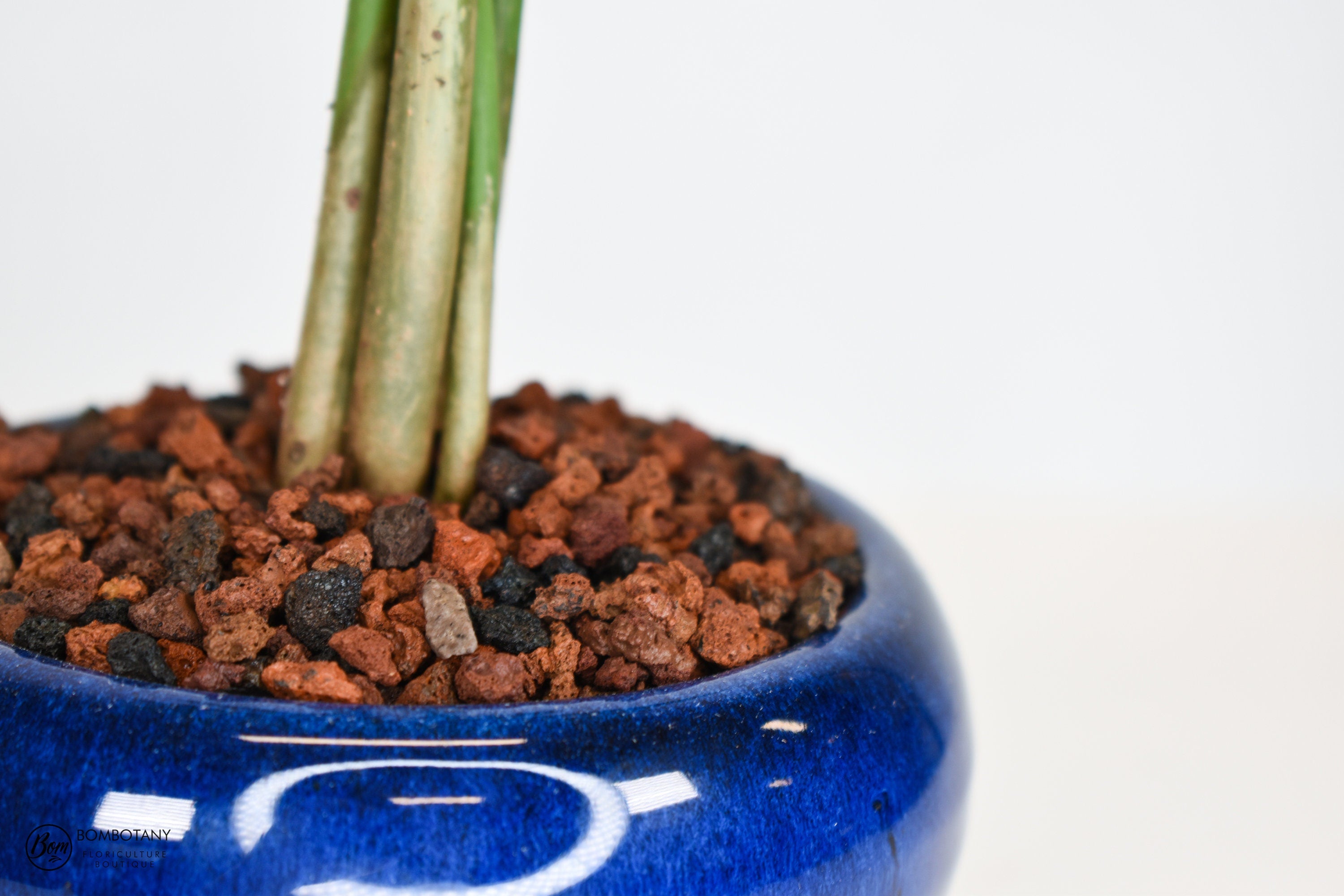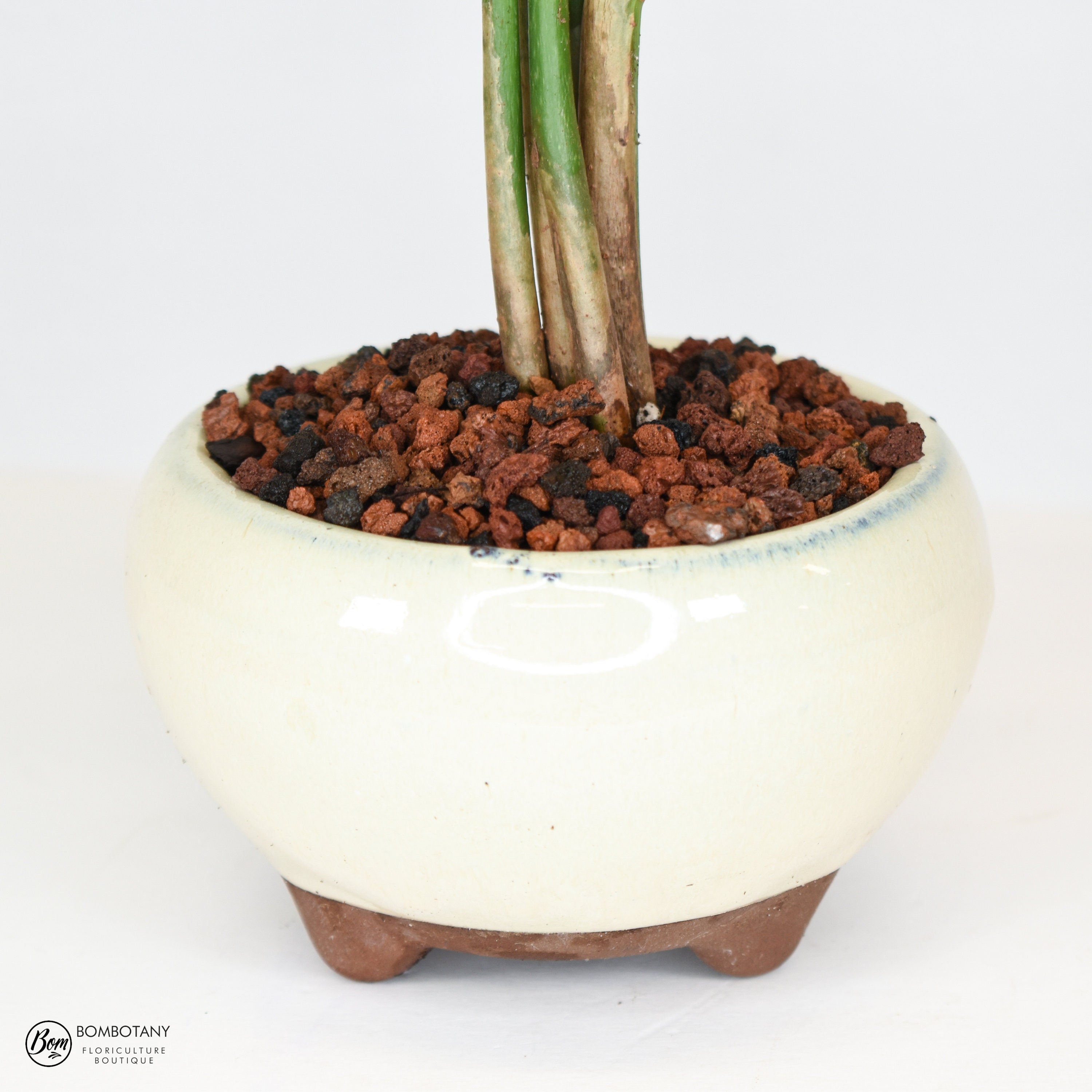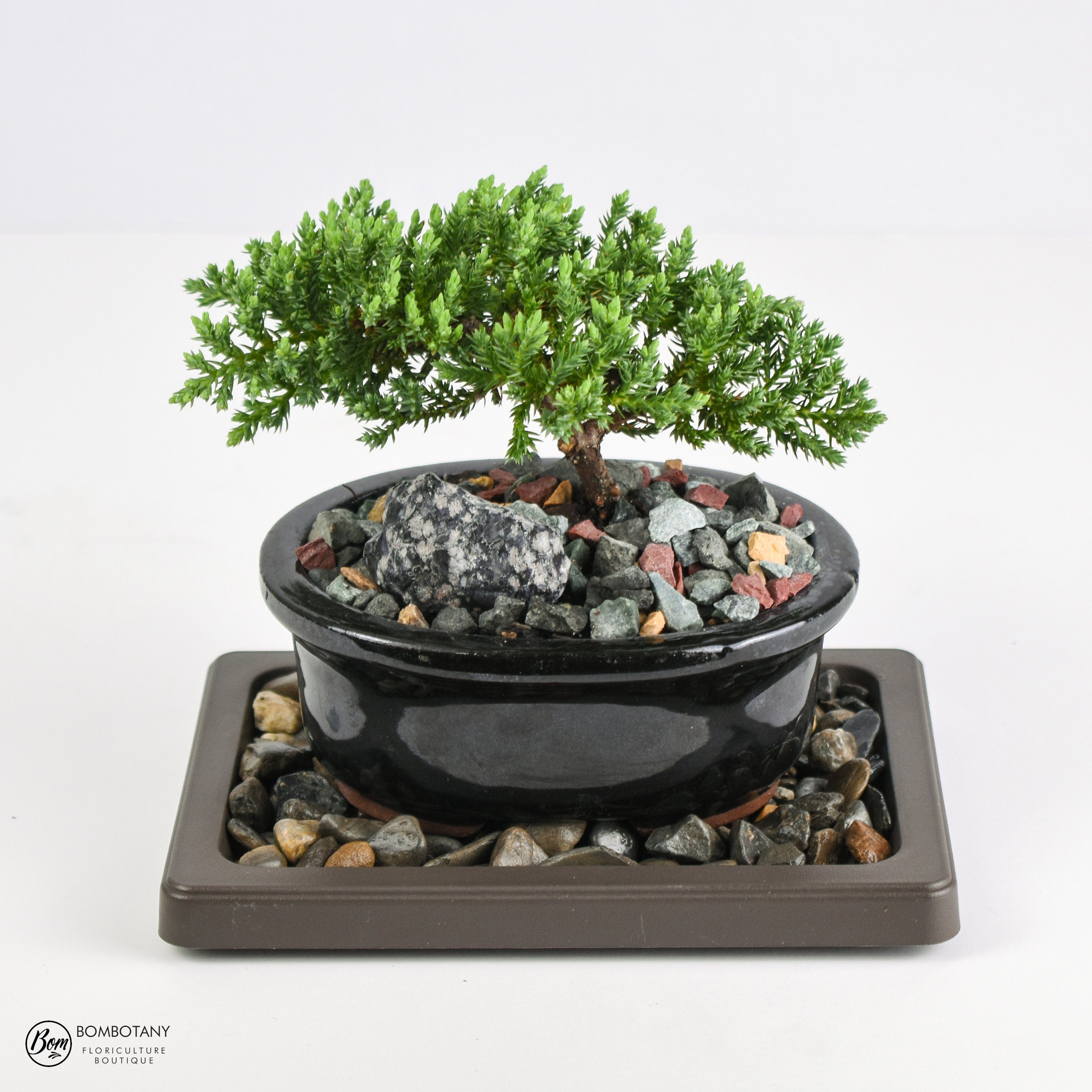 Money Tree Bonsai (Pachira Aquatica) in 5" Glazed Ceramic
The ever-popular Money Tree bonsai plant, AKA Guiana Chestnut (scientific name Pachira Aquatica), is an exceptionally easy plant to care for due to medium light requirements and high tolerance for both wet and dry conditions. These trees let you know when they're thirsty when their foliage begins to slowly droop! Trouble free and easy to care for, Money Tree bonsai are a very popular and well adapted houseplant variety, the perfect beginner bonsai tree. Pachira Aquatica/Money Tree prefers medium bright light and to be watered after the top soil begins to dry out slightly.

Plant delivered will be 12" or more in height, planted in your choice of Latte Cream or Sapphire Blue decorative 5x3" glazed ceramic bonsai pot. These Pachira Aquatica trees have been trained into the essential braided bonsai style and are now ready for your creative input! There is some variation in shape and quantity of trunks between each plant. Photos are representative of most plants. We also have slightly younger unbraided tree's if you'd like a more hands-on experience - just shoot us a message before ordering! All trees come planted with premium red lava rock top dressing and in top quality professional bonsai potting media with time-release fertilizer applied for a truly easy growing experience.

Money Tree has been popular in Japan for centuries and is often associated with good fortune and prosperity in many Asian cultures. It can be found as ornamentation in businesses and homes alike, often with red ribbons tied around the trunk.

Add professional grade bonsai fertilizer granules directly from this listing to save $6 off our standard pricing! Natural/organic bonsai fertilizer promotes growth of symbiotic mycorrhizae fungus resulting in healthier bonsai trees. Chemical fertilizers kill off beneficial bacteria, fungus, and insects that keep bonsai trees thriving. 5-7-4 NPK formulation, comes with 1 gram scoop for easy measurement, 5oz bag.

For an even happier and healthier plant, we strongly recommend the use of a humidity tray. Our 6.5x4.75" polymer humidity trays as seen in photo #10 are Black Pearl color and come with the perfect amount of river pebbles. Humidity trays are meant to be filled with water on a regular basis. The evaporating water increases ambient humidity to your tree's foliage. The use of river pebbles speeds up the evaporation rate, making for an even more effective setup. Humidity trays are also useful for catching runoff when you water your new bonsai plant pal!
Plants ship FREE

Untethered, finally traveling the world, FREE like a bird.. except not a bird. Definitely a plant.

Arrival in 2-10 business days.

Tracked and insured. Weatherized whenever necessary. Heat packs are always free and automatically included.

Non-plants ship free at $35 in cart with code "FREESHIP".
FAQ's

Maybe we can read your mind? Maybe the plants are getting to us.

Check out our FAQ page for quick answers relating to our processes and policies.

If it turns out we're not clairvoyant, or you have questions about this product specifically, just call our name, and we'll be there (♫ we'll be there ♫).
Ask a question