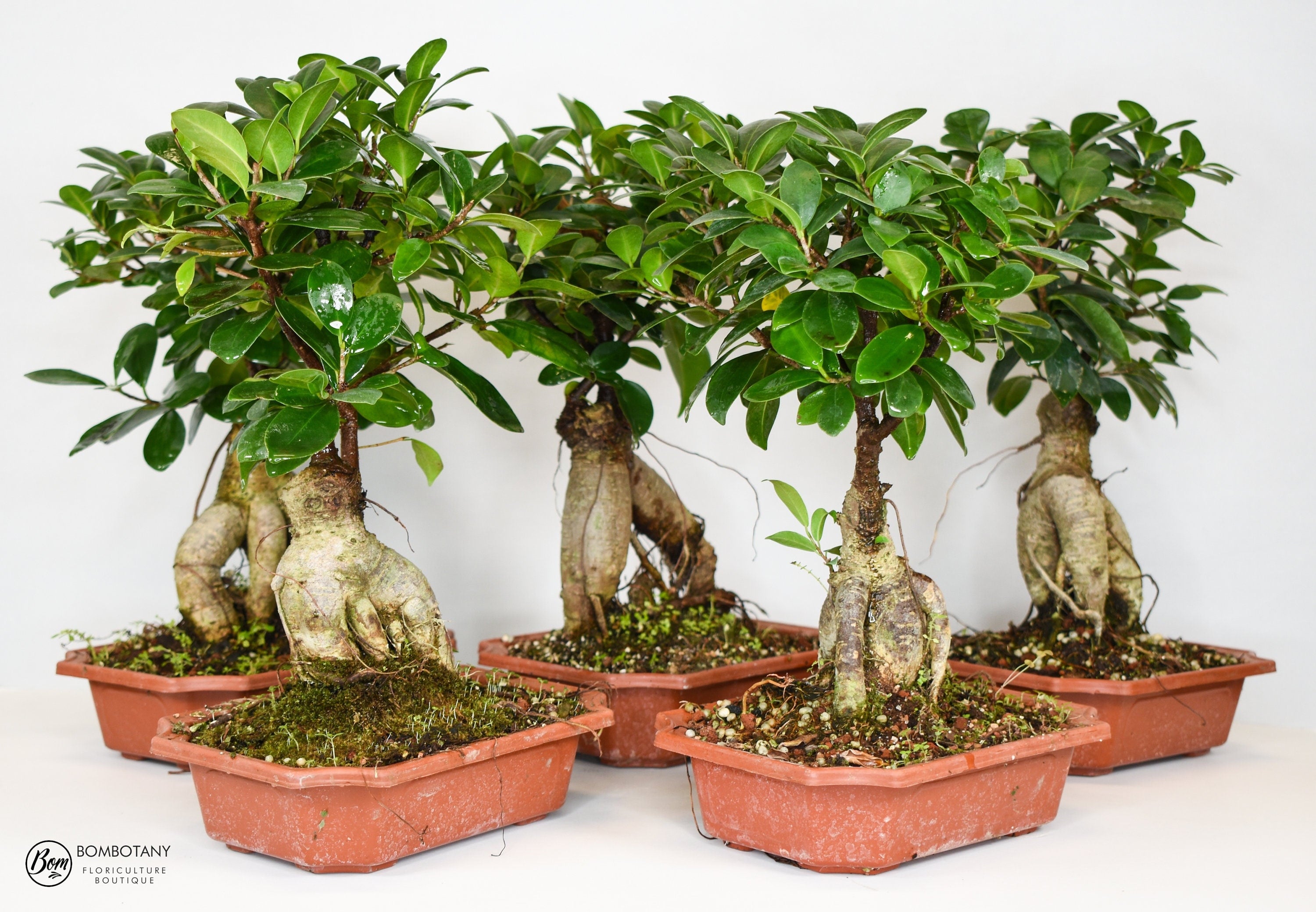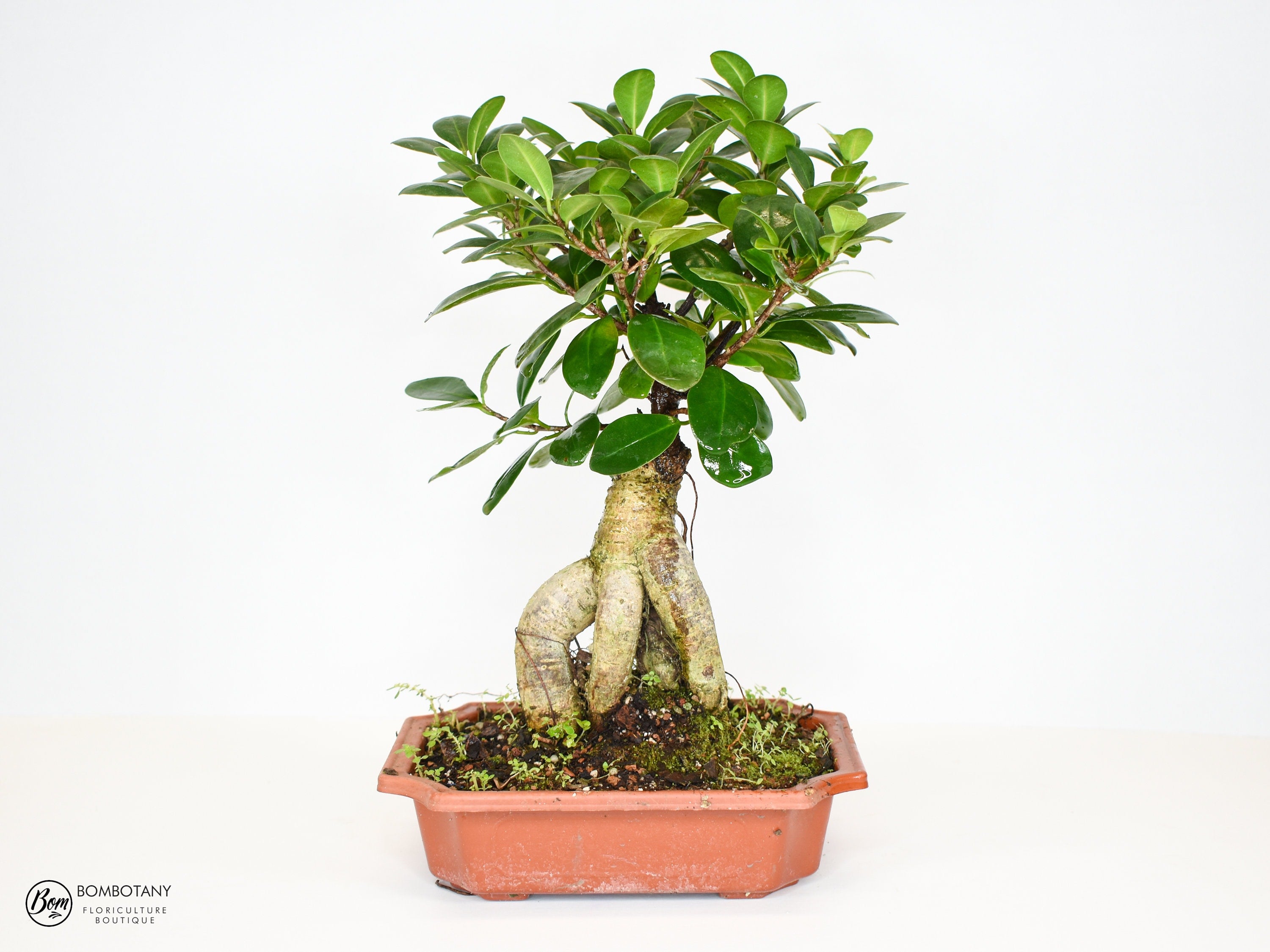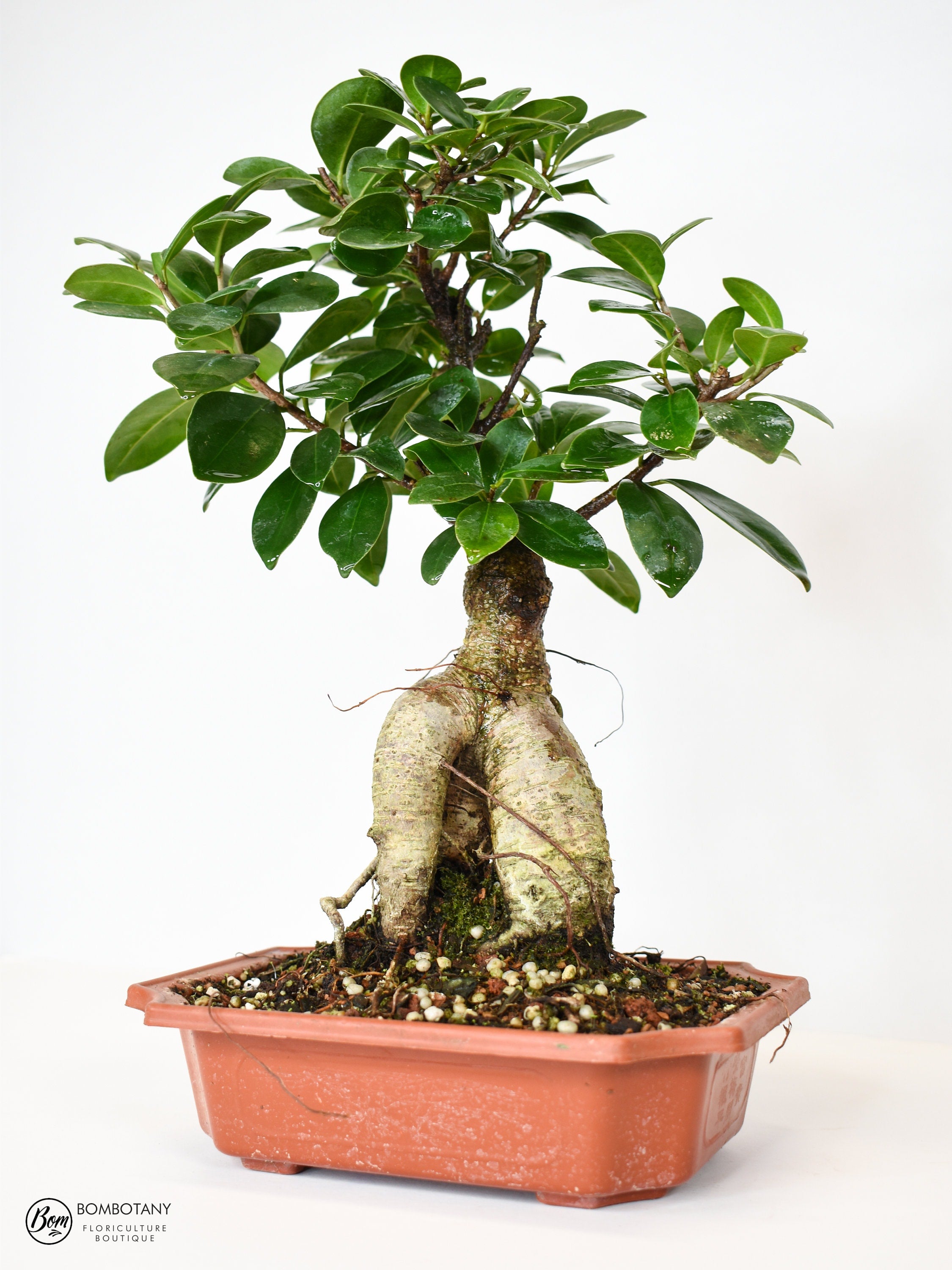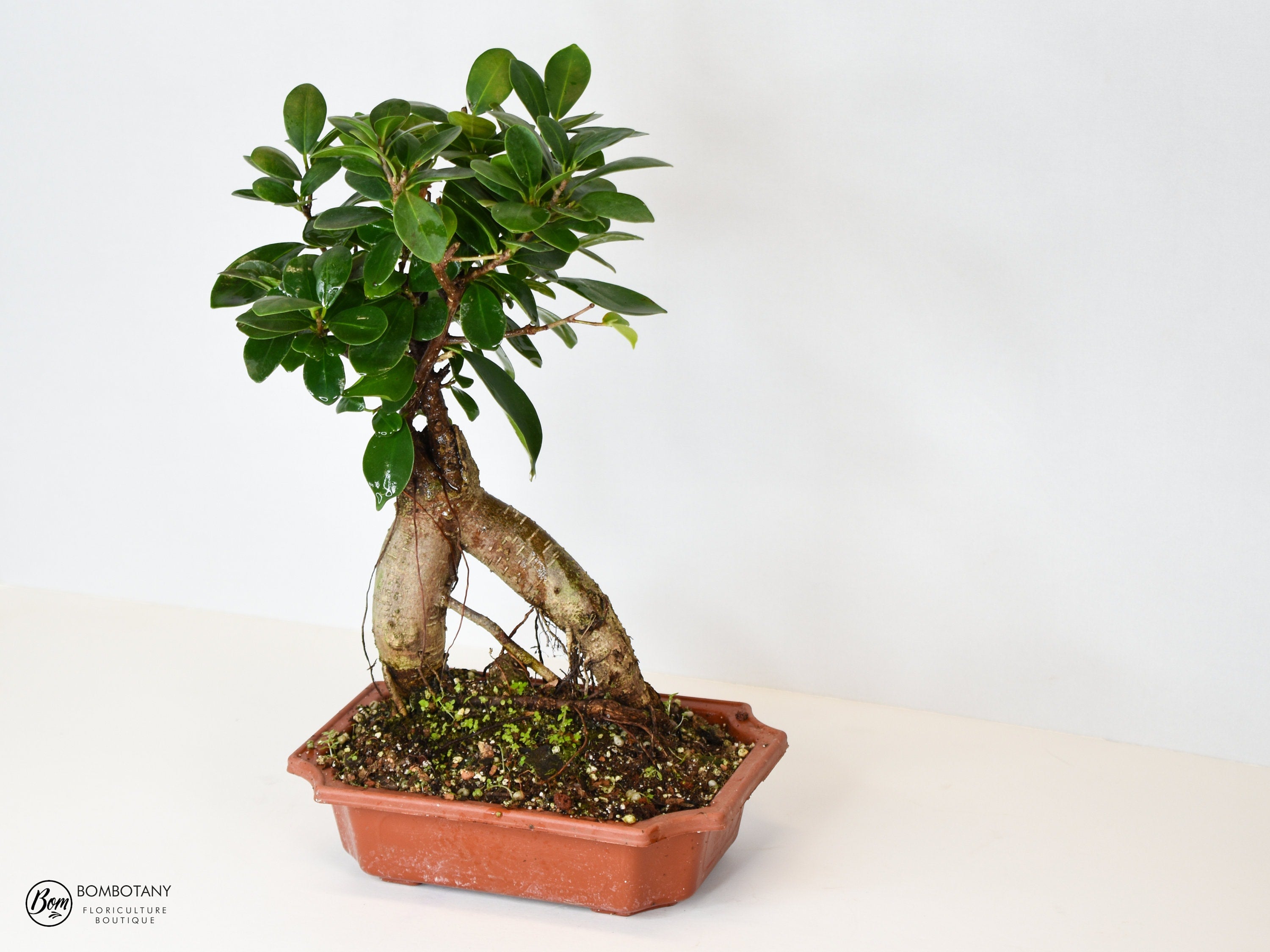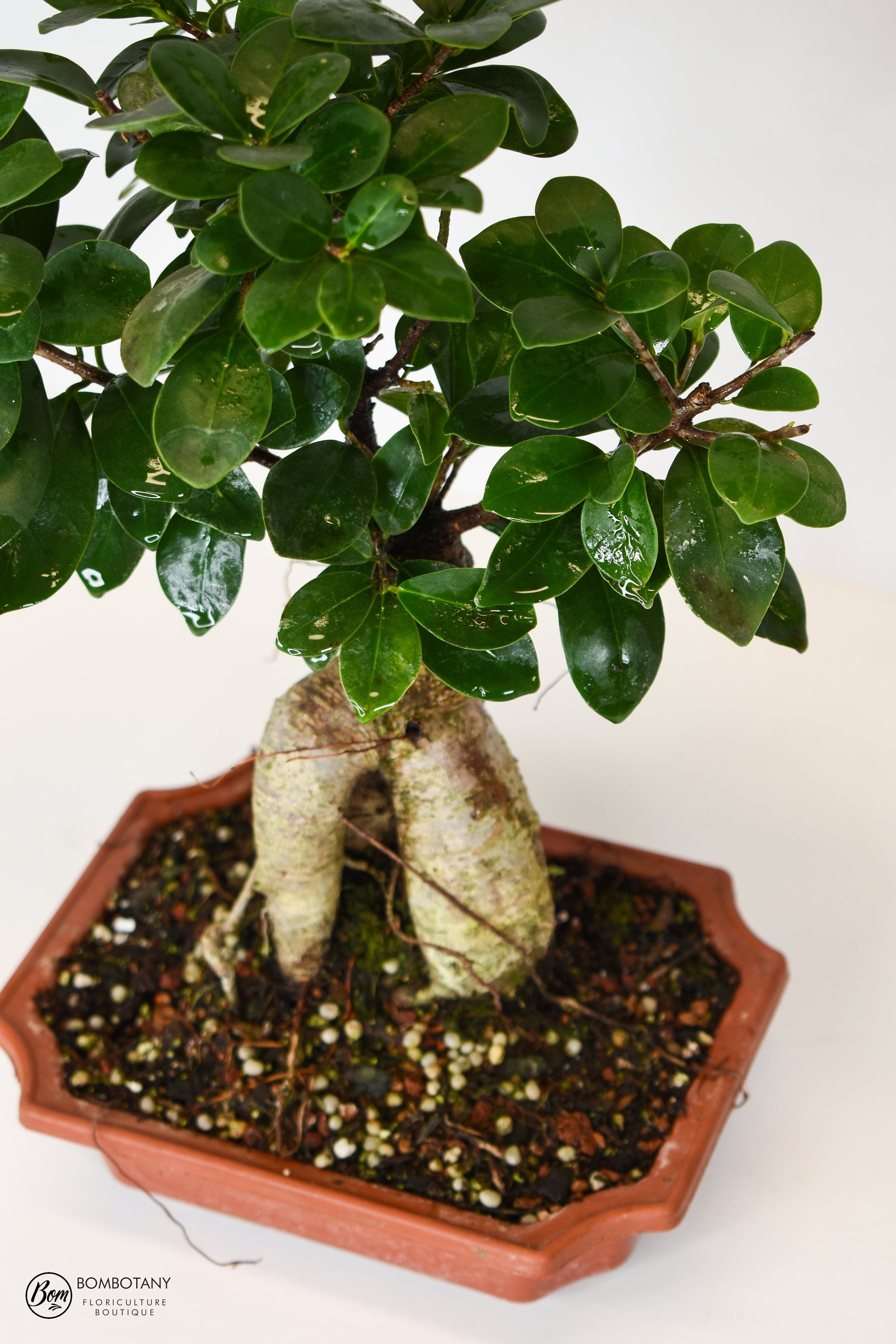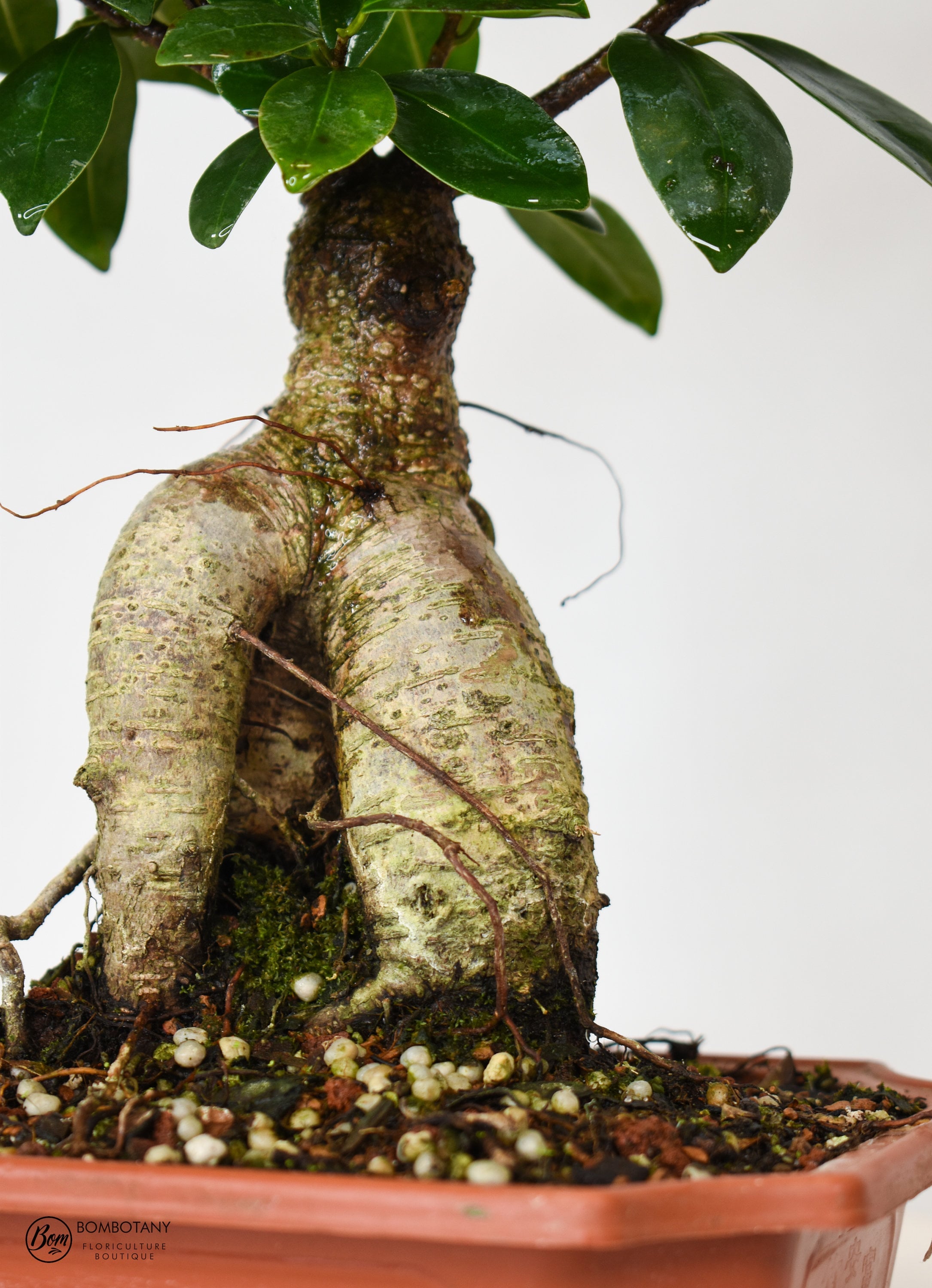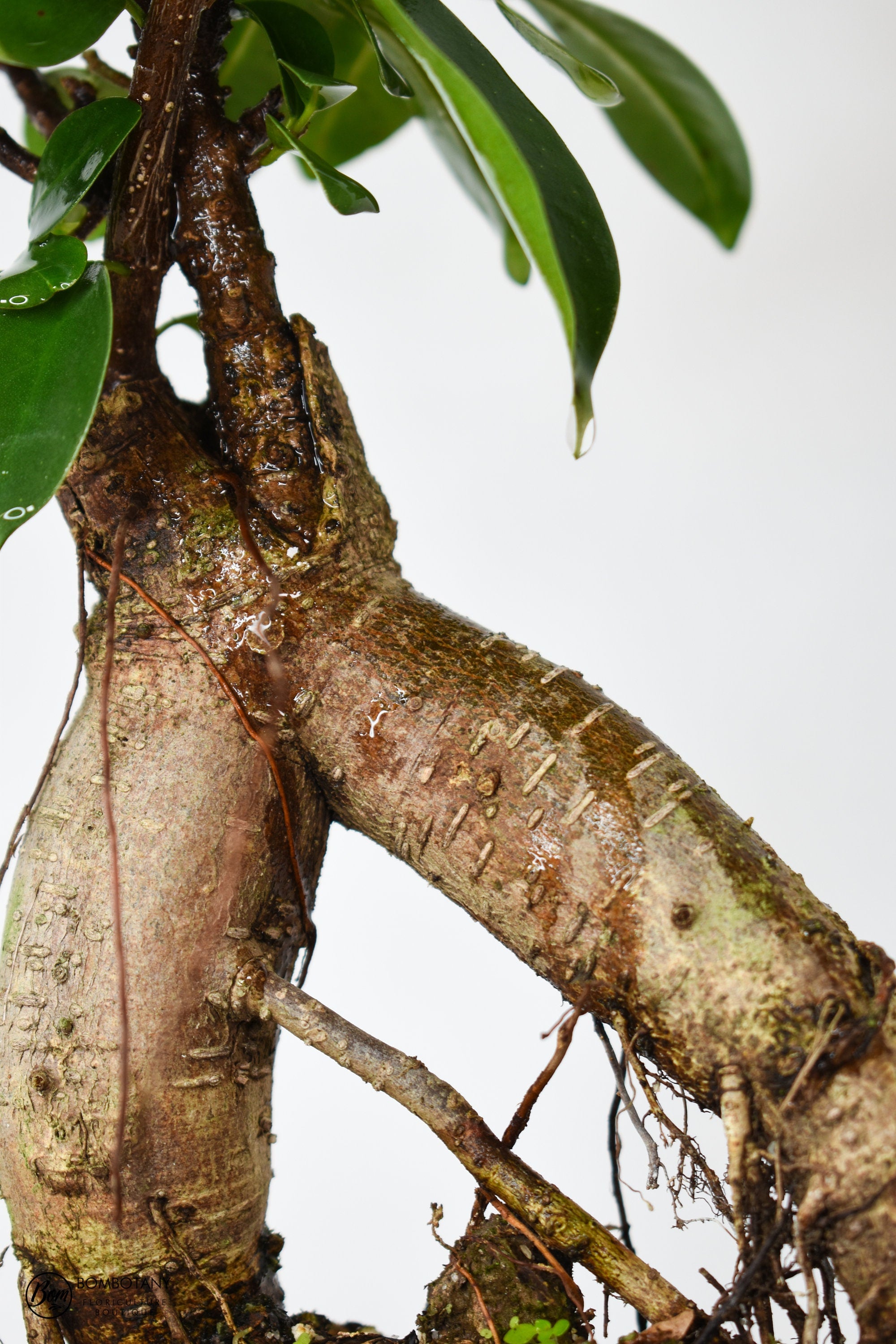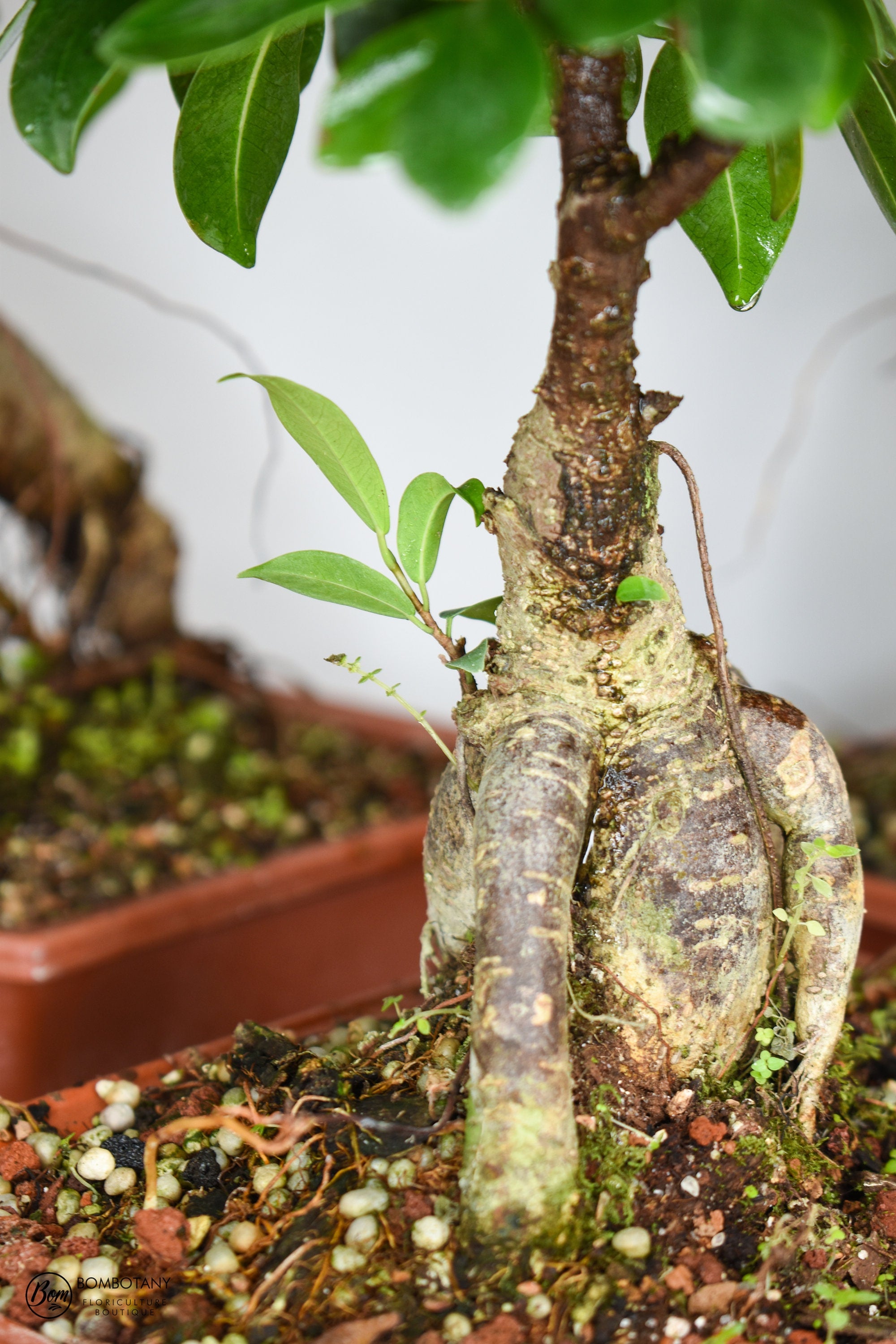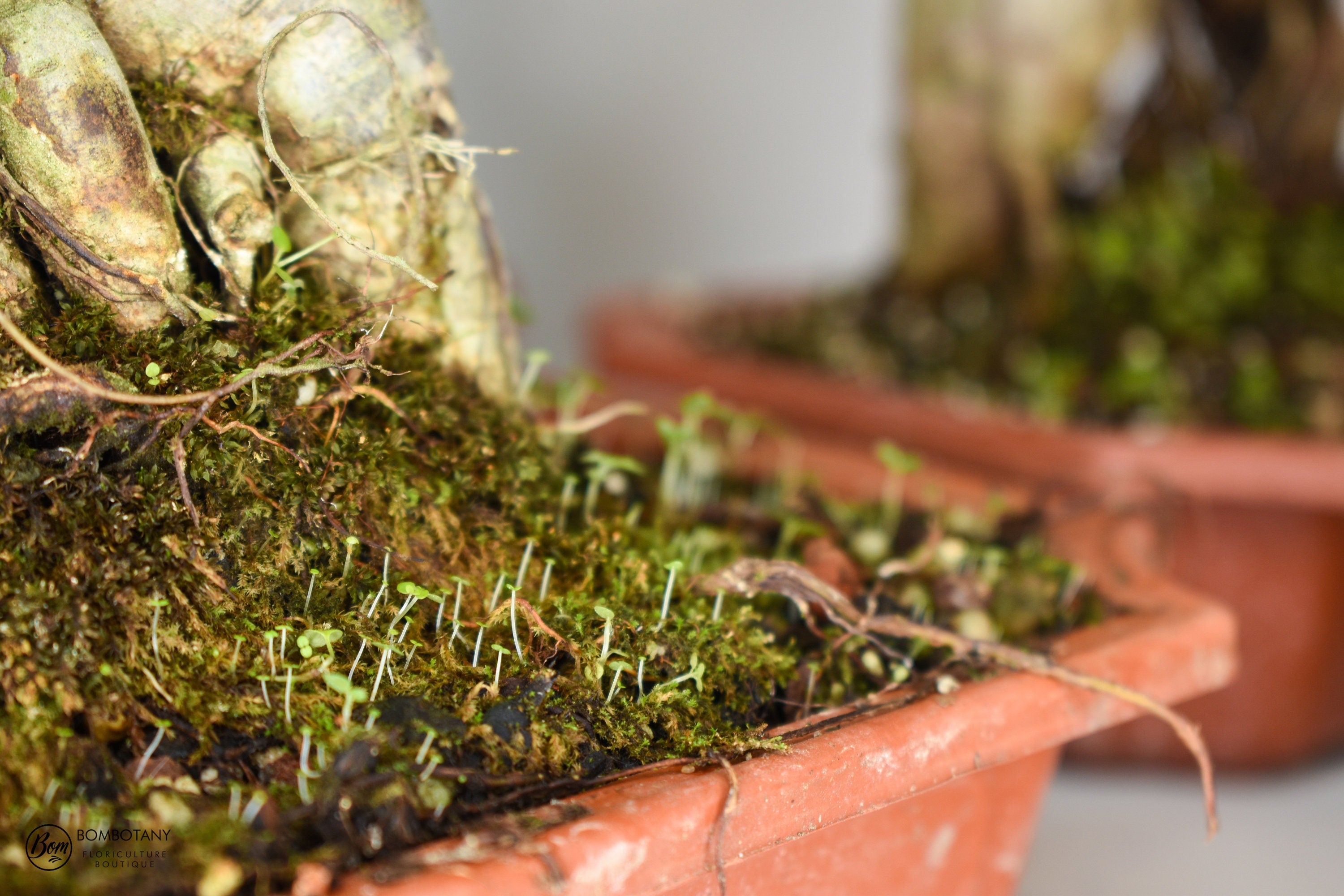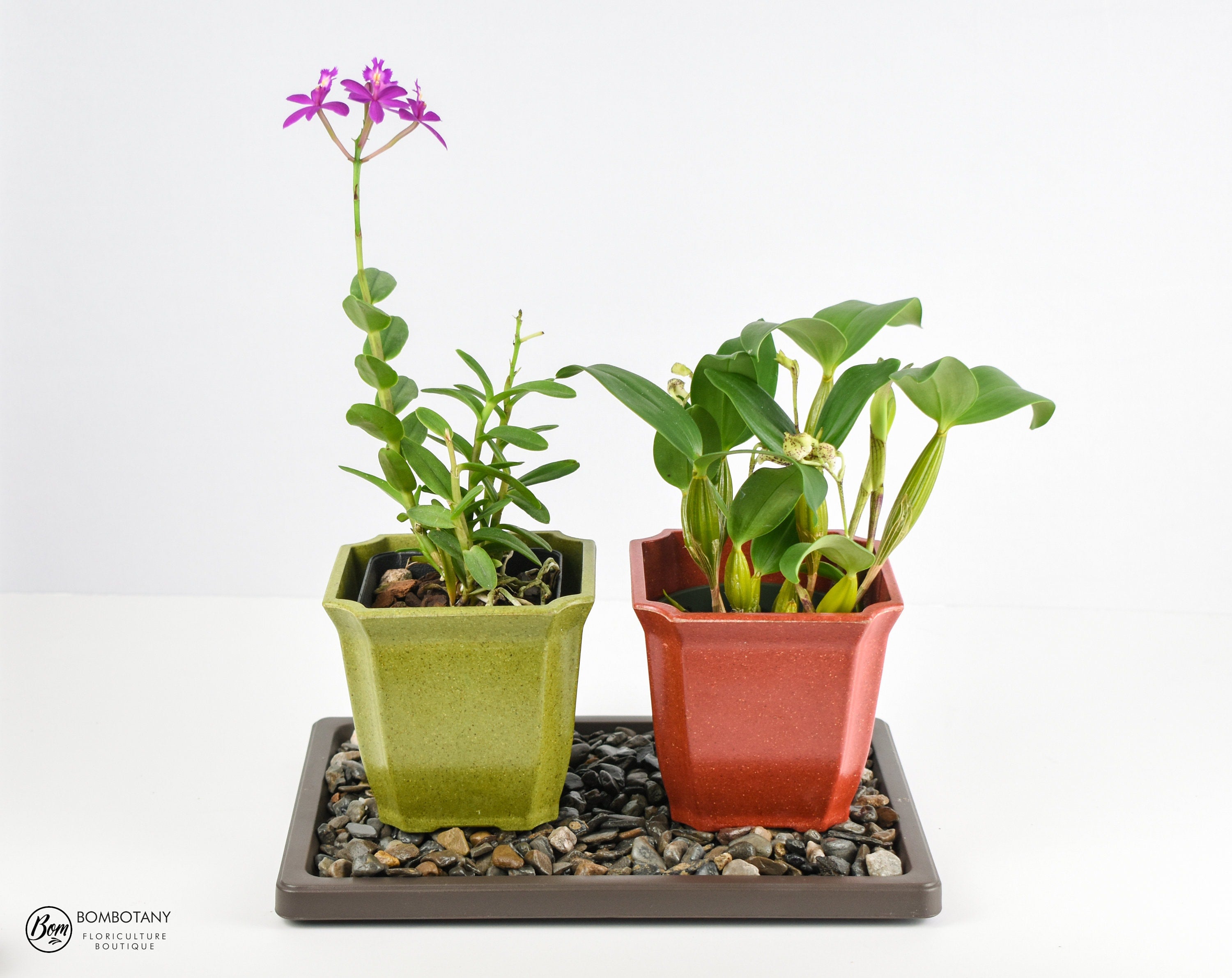 XL Ginseng Ficus Bonsai Plant in 7" Traditional Pot
✿ Live Ficus microcarpa plant
✿ Approx 10" to 12" height
✿ Traditional 7" decorative plastic bonsai pot

Ginseng Ficus (Ficus retusa/Ficus microcarpa) is an evergreen tree in the fig family of plants. Originally from tropical climates in Southeast Asia, these plants make for excellent indoor bonsai trees. Trouble free and easy to care for, Ginseng Ficus bonsai are a very popular and well adapted houseplant variety, the perfect beginner bonsai tree. Ficus microcarpa can grow over a hundred feet high in the wild, but these pre-trained bonsai trees will remain a much more manageable size. Ginseng Ficus prefers bright light and regular, thorough drinks of water.

These bonsai trees have been trained into the essential Ginseng bonsai style and are now ready for your creative input! There is significant variety between shape and composition of the woody parts of each plant available. All trees come planted in top quality professional bonsai potting media with time-release fertilizer applied for a truly easy growing experience.

A note about Ginseng Ficus naming misconceptions - Ginseng Ficus is a common trade name for Ficus microcarpa grown in traditional bonsai fashion. Ficus microcarpa is an entirely different species than Ficus retusa, however the plant industry tends to (incorrectly) use the terms interchangeably. In the vast majority of cases, including this listing, bonsai trained and sold as Ginseng Ficus are Ficus microcarpa and not Ficus retusa.

Ginseng Ficus is used in traditional medicine in India, Malaysia, China and Japan to combat pain, fever, the flu, the malaria, bronchitis and rheumatism. In some Southeast Asian cultures, these bonsai plants are home to helpful spirits and are used in places of worship among Buddhists and Taoists.
Plants ship FREE

Untethered, finally traveling the world, FREE like a bird.. except not a bird. Definitely a plant.

Arrival in 2-10 business days.

Tracked and insured. Weatherized whenever necessary. Heat packs are always free and automatically included.

Non-plants ship free at $35 in cart with code "FREESHIP".
FAQ's

Maybe we can read your mind? Maybe the plants are getting to us.

Check out our FAQ page for quick answers relating to our processes and policies.

If it turns out we're not clairvoyant, or you have questions about this product specifically, just call our name, and we'll be there (♫ we'll be there ♫).
Ask a question